Jamplay Review • [ One of the Best Online Guitar Courses! ] • Update
Jamplay Review : looking for the best online guitar lessons? Then you have probably heard of JamPlay.com. JamPlay is the leader in online video guitar lessons, and offers unlimited access to their library of over 5,000 HD videos for $19.95/month.
If you are like most savvy internet shoppers you will need to see an honest review of JamPlay written by somebody who has bought and tried the service before you pull out your credit card. Lucky for you, that is exactly why I created this site.
I have bought a ton of different guitar lesson programs, and put a fair amount of time into trying each one. On this website I provide an in-depth, honest review of JamPlay.com, including screenshots, pros & cons, frequently asked questions, and more. Read on and find out if JamPlay is the product you've been looking for.
JamPlay Review – Worth The Money?
The #1 question I get asked by readers is, "Is JamPlay worth the cost?". For me, JamPlay is definitely worth the cost. JamPlay is the only guitar lessons program that I continue to use on a daily basis. JamPlay has more hours of lesson videos than any competitor, and includes a comprehensive set of extra tools to help you learn. I've broken this review up into sections which explain in-depth what you get with JamPlay, starting with the members area.
JamPlay Members Area Review
The Jamplay Member Site (screenshots below) is where all lesson material is accessed. Well designed navigation menus conveniently organize content and allow you to easily see a snapshot of your recently viewed lessons, progress reports, new videos (added weekly), and active live webcam training sessions.
The members area also shows the latest posts from the JamPlay community, which is a private forum for members. The forums allow you to ask questions and seek advice from other guitarists on JamPlay. JamPlay's team of instructors frequent the forums to answer questions as well.
Compared to other online guitar programs, JamPlay's member area is better organized, easier to navigate, and has a cleaner design.
JamPlay Lesson Layout Review
JamPlay has over 5,000 HD video lessons taught by more than 80 guitar teachers, and they're adding more every day. With all that lesson content, I was worried that I would become overwhelmed with material and not be provided with a clear cut lesson plan. My worries were quickly alleviated.
JamPlay's massive library of guitar lessons is organized into four phases which guide you step by step through the learning process and assume no prior guitar playing experience. Below is a quick breakdown of the phases.
Phase 1: Beginners
— Start by choosing electric or acoustic guitar
— Pick out a guitar teacher
— Progress through each video in the teachers lesson plan
— Learn basic posture, fingering technique, reading music, simple chords, etc
— Automatically records your progress
Phase 2: Intermediate (Genre & Skills)
— Choose genre or skills section
— Learn genres like blues, fingerstyle, metal, rock, country, jazz, etc
— Practice necessary skills for lead and backup guitar parts
Phase 3: Advanced (Songs)
— Choose a song from a library of popular artists
— Follow along with the video lessons to learn the song
— Learn advanced licks and riffs to sharpen your skills
Phase 4: Song Writing
— Write your own songs lessons
JamPlay's four phase learning program is supported by more than 80 professional guitar teachers. Why is that important? The lesson material in each phase is covered by more than one teacher. This allows you the option to choose a teacher that you learn best from instead of being limited.
JamPlay Features
Aside from the 5,000+ video guitar lessons, JamPlay membership includes unlimited access to a comprehensive set of tools, supplemental materials, and learning games. Here's what you get:
Chord Library
— View chord diagrams for over 950,000 chords
— Build and print custom chord sheets
— View chords for altered tunings and voicings
— View chord tablature
— Close up photographs of fret hand showing correct finger positions for each string
Scale Library
— Full note diagrams for all 12 keys
— Interactive fretboard logic
— Diatonic, pentatonic, blues/bebop, symmetric, 6 note exotic, 7 note exotic, 8 note exotic.
— Demonstration & improvisation videos for each scale
Jam Tracks
— Over 500 professionally recorded tracks in various genres.
— Custom & exclusive to JamPlay
— Track summary & notation
— Recommended scales for each track
Lick & Riff Library
— Hundreds of video lessons for custom licks & riffs
— Various genres
— Full tabs and notation included
Games
— Fretboard memorization game
— Music notation quizzer
— Note identification
— Pitch recognition
Community / Member Forums
— Private online forums for JamPlay members
— Chat with other members
— Interact with teachers and ask questions
— Get help with technical issues
Daily Live Webcam Sessions
— Participate in live learning sessions via webcam
— Available several hours a day
— Ask questions and get immediate answers
Each of JamPlay's tools and games are interactive, well designed, and deeply integrated with the four phase lesson plan. Competing products like GuitarTricks and Jamorama include extra features, but they are not nearly as comprehensive. Personally, I think the tools and features alone are worth the $19.95/month price tag for JamPlay membership.
JamPlay Pro's & Con's
No product is 100% perfect, but JamPlay is about as close as you can get. I own several guitar lesson products, but JamPlay is the only one that I continue to use on a daily basis. Below are some of the pros and cons of JamPlay:
Pros
— Over 800 hours of HD video guitar lessons
— Organized four phase learning process
— 80+ teachers. Never limited to one teacher
— Instruction for acoustic & electric guitar
— Learn multiple genres & popular songs
— Comprehensive set of extra features
— Includes live webcam learning sessions
— Apps: iPhone App, iPad App, Android App, iWatch App, Kindle App
Cons
— Must be online to view videos. Can't download for offline viewing
— More expensive than competitor GuitarTricks.com on Year PRO;
JamPlay Review Conclusion
Is JamPlay right for you? Very likely. Overall, JamPlay is my #1 recommendation for learning the guitar online. I've tried several competing products including GuitarTricks, Jamorama, Gibson's Learn & Master Guitar, and Beginner Guitar System, and JamPlay blows them all away.
Ready to give JamPlay a shot? I searched around the internet and found some JamPlay Coupon Codes. Click one of the links below to save either 25% on a monthly membership, or 10% on quarterly and annual memberships. You will be redirected to the JamPlay.com sign up page, and your discount code will automatically be entered for you.
— Unlimited access for $14.96 per month.
— 100% Money Back Guarantee.
— Unlimited access for $143,95 for a full year "YEAR STANDARD" (Annual)
— Unlimited access for $269.95 for a full year "YEAR PRO" (Annual)
— 100% Money Back Guarantee.
Thanks for reading my JamPlay review! I hope I have helped you decide whether or not JamPlay is what you're looking for in online guitar lessons. Got a question or comment? Check out the frequently asked questions below, or leave a comment in the comments section!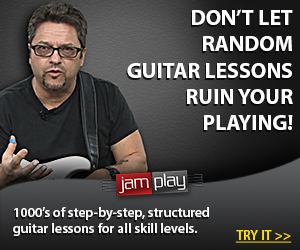 Affiliate Disclosure: If you choose to visit one of the courses I review via my website and make a purchase I may recieve a commission, how ever I do not allow this to interfere with my rating and review process. I never accept paid reviews and each product is thoroughly tested by me. All opinions offered here are my own.